It is important to people that they have the perfect send-off and as the individuals of the baby boomer generation start to plan their departures, funerals are becoming less traditional and more personalised, some might even say quirky.
Music and flowers are common but fairly low-key ways to add a personal touch to a funeral. For people looking to make a bolder statement, choosing a unique and unusual funeral vehicle is a much more public way to stamp your personality on proceedings.
The days of the hearse may not be numbered yet, but as we take a look at six of the most unusual choices for funeral vehicles, the sleek black limo is not the only way to travel to your final send off. 
Milk Float
Milk floats are not as common as they used to be, but some have found an alternative use as funeral vehicles. In 2015, a local milkman in Clitheroe sadly passed away after 40 years of deliveries. For his funeral, a refurbished 1940's milk float was used to take him to St Paul's Church in the town. The milk float is becoming a go-to for the funerals of milkmen and women because of the part it has played in their working lives, but also as a symbol of their service to the local community.
Mystery Machine
The Scooby-Doo Mystery Machine is one of the most iconic vehicles in television history and is popular as an alternate funeral vehicle. There is no better send-off for a Scooby-Doo fan than the famous camper-style van that featured so heavily in the show. The psychedelic paint job might not be to everyone's taste, but it is the perfect example of people wanting special, personalised funeral vehicles that really reflect their memories.
Three-wheeled hearse
Staying with TV, A 2015 survey of over 200 funeral directors revealed a 'Del Boy-style three wheeled hearse' was amongst the most unusual funeral vehicles that have ever been requested. This hearse is modelled on the iconic Reliant Regal that Del Boy drives in the legendary British sitcom, Only Fools and Horses. Only Fools and Hearses is a hearse company that rents out these vehicles to super-fans for whom they are the perfect send-off vehicle. The family of Geoff Warren, a lifelong fan of the show, had it take his coffin to a church in Llantwit Major, South Wales.
Tank
Believe or not, refurbished tanks are becoming popular amongst the families of deceased servicemen as a personal and unique approach to a funeral vehicle. Back in 2012, Nick Mead, a father-of-two from Northamptonshire began work on converting a FV432 tank into a funeral vehicle, to provide as an option for the families of servicemen and tank enthusiasts alike. The 'Tankhearse' has served alongside soldiers in Iraq and Afghanistan, withstanding hostile climates and terrain. The first funeral to take place with the 'Tankhearse' was that of 70-year-old tank-driving instructor Graham Collins who wanted his final trip to be inside a tank.
Monster Truck
Another surprisingly popular choice for a funeral vehicle, especially in the USA, is converted monster trucks. Not as popular in the United Kingdom, where we don't see many Monster Trucks on the road, it is becoming increasingly common in America as a mighty send-off for anyone who has enjoyed driving one of these, or who just wants to lighten up their funeral. Some are custom Cadillac hearses from the 50's, 60's and 70's, converted and amped up on top of huge tyres to create one of the most impactful yet unusual funeral vehicles available.
Tandem bicycle hearse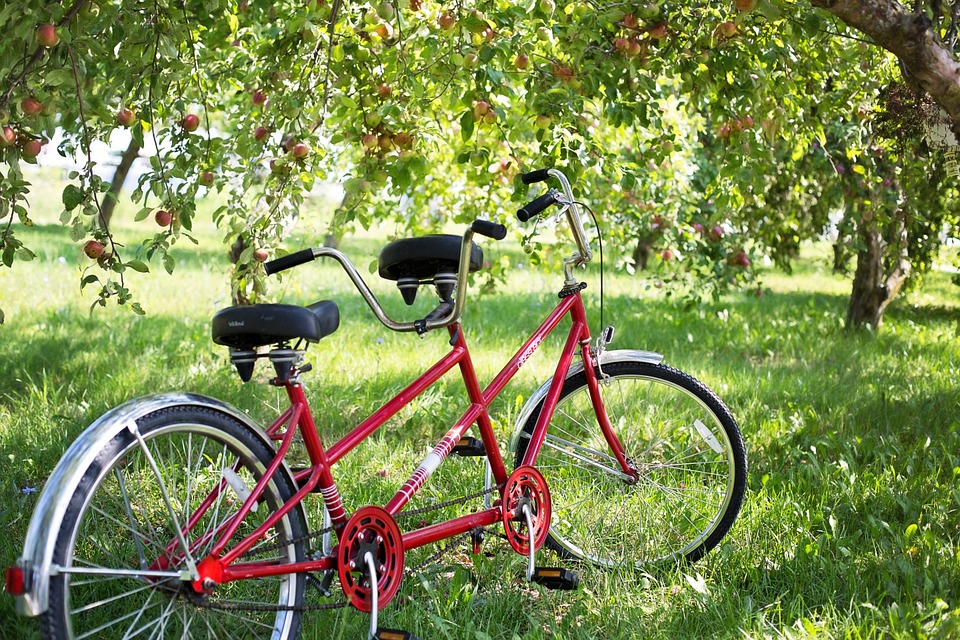 Sometimes, a greener alternative to traditional fossil-fuel powered vehicles are requested -- particularly if the environment meant a lot to the deceased. Converted tandem bicycles, fitted with a side-car to carry the coffin, have been used and are increasingly popular amongst environmentalists and keen cyclists alike. Reverend Paul Sinclair operated the only tandem-bicycle funeral service in the United Kingdom before he had to sell it because of the impact tandem funerals were having on his health. Since then, a number of companies offer tandem bicycles for funeral services, hiring professional cyclists to carry out the duty amongst a procession.
Personalised funeral vehicles are becoming more popular than ever, and with this, funeral directors are having to accommodate more and more unusual requests. But as Paul Wilcox, of Wilcox Limousines, said in a Times Driving article, "There really are few professions where people will go to such lengths to accommodate customer requests".
Golden Charter works with a network of over 3,000 independent funeral directors with many experienced in helping families find the perfect funeral vehicle for their loved ones.
To find your nearest Golden Charter associated independent funeral director or for more information on Golden Charter funeral plans, call free on 0808 169 4534 to request a free information pack.